---

U. S. S. THOMAS J. GARY (DE/DER-326)



Welcome to the official U. S. S. Thomas J. Gary (DE/DER-326) Homepage. This page was started on 28 April 1997. I will continue to update it as new information is available. I apologize for any errors or omissions. Please bring them to my attention and I will correct them as soon as possible.
---


Click here to read what is new on the web page
Added Attendees and Photo of 2016 Annual Reunion

If you or someone you know served on the U.S.S. Thomas J. Gary Please click here to send me you info.
Also if you are on our crew list and you need to update your info click here.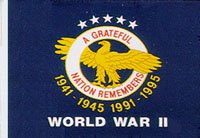 To register on the following web site click the graphic below
Anyone can register but to get the full benefit you will need to pay an annual fee.




PHOTOS
U.S.S. THOMAS J. GARY (DE-326)

U.S.S. THOMAS J. GARY (DER-326)


World War II Photos aboard DE-326
(I have several of these, so I will be posting them periodically. Keep checking to see new photos)
Dedication to Thomas J. Gary in Texas


2017 ANNUAL REUNION (33nd)
February 14-16, 2017
New Orleans, LA Area
(Details To Be Announced)

If you are interested in the reunion contact the reunion coordinator for additional information
REUNION COORDINATOR
5608 Co. Rt. 10
Heuvelton, NY 13654
(315) 344-8823

PREVIOUS REUNIONS
(
crewmembers attended in parenthesis, total attendees in brackets)
2016 Annual Reunion (32nd) Denver, Colorado (13) [25]
2016 Mini Reunion (9th) Umatilla, Florida (12) [20]
2015 Annual Reunion (31st) Danvers, Massachuttes (23) [44]
2015 Mini Reunion (8th) Umatilla, Florida (9) [13]
2014 Annual Reunion (30th)
2014 Mini Reunion (7th) Umatillia, Florida
2013 Annual Reunion (Cleveland, Ohio)
2012 Annual Reunion (Lancaster, Pennsylvania)
2011 Annual Reunion
2010 Annual Reunion (Pigeon Forge, Tennessee)
2009 Annual Reunion (Great Lakes Naval Base) (13) [11]
2008 Reunion (Evansville, Indiana)
2007 Reunion (Branson, Missouri)
2006 Reunion
2006 Mini Reunion (6th) Tallahassee, Florida
2005 Reunion
2005 Mini Reunion (5th) Tallahassee, Florida
2004 Reunion
2004 Mini Reunion(4th) Tallahassee, Florida
2003 Mini Reunion (3rd) Tallahassee, Florida (5)[11}
2002 Gulfport, Mississippi
2002 Mini Reunion (2nd) Tallahassee, Florida
2001 Branson, Missouri
2001 Mini Reunion (1st) Tallahassee, Florida
2000 Albany, New York
1999 Branson, Missouri
1998 Springfield, Massachuttes
1997 Mobile, Alabama (12) [29]

1994 Chattanooga, Tennessee (17)
1993 Dayton, Ohio (40)
1992 Buffalo, New York (22)
1991 Mobile, Alabama (25)
1990 Lewisburg, Virginia (15)
1989 Lewisburg, Virginia (24)
1988 St. Louis, Missouri 14)
1987 Newport, Rhode Island (21)
1986 Philadelphia, Pennsylvania (19)
1985 Orlando, Florida (27)


SHIPMATES LOCATED

Select Letter From List Below:

[A] [B] [C] [D] [E] [F] [G] [H] [I] [J] [K] [L] [M]
[N] [O] [P] [Q] [R] [S] [T] [U] [V] [W] [X] [Y] [Z]

: denotes the individual participated on "Operation DeepFreeze"

: Denotes the individual has an entry in the "Navy Log" at the Naval Memorial In Washington, DC
Information On How To Contact Shipmates On This List,
To Submit Corrections, Provide Additional Data Or Give Information About Former Crew Members,
Send E-Mail To: Alan D. Baker OR Ron Day
You Can Write Alan D. Baker: 3041 Tipperary Drive, Tallahassee, FL 32308-3316

Click here to see map of where shipmates are located

1945 Pacific Typhoon by Frank Perella

Links to other DE/DER's

Destroyer Escort Historical Foundation
Destroyer Escort Sailors Association

Click logo to go to DESA


Awarded: March 18, 2003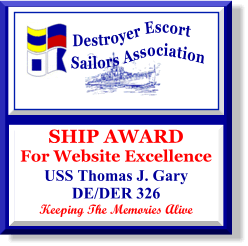 comments or suggestions about this website should be sent to:

webpage updated 08/05/16 14:08:33